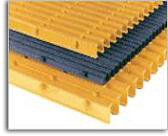 Pultruded grating is available in a premium grade polyester or vinyl ester resin, available with or without a slip resistant gritted surface, grit textures are available in coarse or fine structure. An ideal replacement for steel or aluminium grating because it is lighter, corrosion resistant and flame retardant.
Standard cross rod spacing is 152 mm. Other options such as selection of bar spacing, bar shape, cross-road placement and color are available by special request with a minimum quantity requirement.
Type

Thickness (mm)

Aperture spacing

(mm)

Open area (%)

Weight (Kg/m2)
Size details :
Two surface choices with or without an anti-skid grit surface. Standard panels come with cross bar spacing of 152 mm or optimal 305 mm on center.
Custom sizes are available upon request.

Box International Being your excellent partner l Copyright Box International © 2015 - All rights reserved
QUICK LINKS
INDUSTRIAL SUPPLY CHAIN SOLUTION

Logistics
CONTACT

Contact form
Box International
17 Allée des Grands Pâquis
Zone Industrielle Est
54180 Heillecourt - France

Phone +33 (0)3.83.27.52.60
Fax +33 (0)3.83.27.52.48

info@boxinternational.fr